Bespoke solutions for all your windows
Transform your house into a luxurious home, with made to measure curtains.
Whatever your requirements are, it helps to be in the know about selecting both the right headers and fabrics for the best final appearance. It is important to obtain the perfect frame for the window from short window curtains to long, we offer handmade window curtains to regulate the light and complement the style of the room.
Exterior Window Shutters
If you are looking for custom made curtains, you could not find a better companion than Javea Blinds. With 16 years in business, Javea Blinds is the name synonymous with luxurious solutions and that is precisely what is on offer for our customers. Whether you are searching for short window curtains in Moraira or handmade window curtains in Teulada Spain, Javea Blinds is the destination for all that you need. We provide our customers with bespoke solutions at highly affordable prices. Customer satisfaction is a matter of utmost importance for us at Javea Blinds. So, what are you waiting for? Reach out to us today for bespoke curtains solutions. We have unique choices available for you.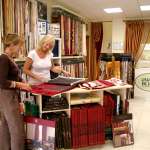 Be inspired by our stunning collection of quality fabrics and complimentary poles & accessories, embracing both traditional and modern styles. If you need short window curtains in Moraira, or perhaps handmade window curtains in Teulada Spain then please contact us to see what we can do.